The difference between a dreary outdoor space and a luxurious backyard is simple, lighting. However, harnessing and channeling natural lighting is nearly impossible. Instead, by utilizing the transformative power of electric lighting, you can elevate your outdoor experience from good to luxurious. Whether you want to create a bright walkway, a cozy firepit, or the perfect setting for a party, our creative outdoor lighting ideas will inspire you and get your creative juices flowing.
Lighting is part science and part art, as the lights, placement, and brightness that you choose have a direct effect on the tone and ambiance of any space. And without the appropriate planning and professional advice, you may unintentionally be creating a dark and joyless space.
Today, we are going to focus on the artistry of lighting and how it can transform your yard into a breathtaking masterpiece that is cherished by you, your friends, and your family. So embark on a journey with us as we explore the three unique ways of turning your existing outdoor space into a luxury backyard packed with style, ambiance, and enchantment.
Why is Lighting Important When Creating a Luxury Backyard Aesthetic?
First, picture yourself walking down a poorly lit walkway where the light only shines on part of the path. Then, imagine your walkways adorned with soft lights that guide your path as you meander through your beautiful garden. Chances are, most of us will be hurrying along the poorly lit path, while the latter creates a much more luxurious and inviting walkway that is enjoyed instead of used begrudgingly.
Now, picture your friends and family gathered around the backyard fire pit, but the pathway to get there is dark and foreboding. Wouldn't it be much more inviting if the path and surrounding area were lit by the elegant glow of retaining wall lights and the path was clearly visible by the strategic illumination of undercap lights?
And while summer is known for its increased sunlight, the evening does not have to mean the end of your festivities. With luxury backyard lighting, you can elegantly adorn your patio, deck, or gazebo with string lights, creating an intimate setting that keeps your dinner guests bright and comfy long after the final plate has been served.
As you can see, lighting plays a crucial role in the mood and ambiance of your space. No matter what type of plans you have for your backyard, lighting is the key to unlocking the full potential of your landscape.
3 Stylish Outdoor Lighting Ideas for Your Virginia Backyard
The Enchanted Evening Walkway
Installing simple and discreet lighting along your pathways will instantly create a sense of anticipation and charm whenever you enter your backyard. Instead of having a single light poorly illuminate the whole walkway, adding multiple well-placed lights creates a welcoming glow, guiding you and your guests safely on the path and creating a mystical journey through your luxury backyard.
All it takes is a few well-placed lights to transform your pathway into an enchanted walkway. Opt for warm-toned LED lights that cast a soft light and utilize creative spacing to enhance the effects of mood lighting.
Products to Consider:
LED Pathway Lights with Warm-Toned Bulbs
LED Spotlights for home, tree, and shrub illumination
Smart Lighting Control options via Smart Transformers
An Evening Glow Around the Firepit
Since the dawn of time, fires have served as a communal space for friends and family to gather after a long day. However, backyard firepits require a bit of added lighting, as the nearby area and path can often be quite dark.
One way to achieve this is by utilizing recessed lights on nearby retaining walls and seating walls, which will immediately add a soft glow and create a cozy and inviting atmosphere for gatherings around the warmth of the fire.
Undercap lights are another fantastic option to subtly illuminate the area around your fire pit. These lights are recessed underneath the overhang of the stone seat wall caps, providing a natural and soft glow. As a bonus, undercap lights indirectly light up the surrounding area, ensuring guests can navigate safely around the seating area.
Products to Consider:
Retaining Wall Lights to Accentuate Stone Details
Undercap Lights for Subtle Illumination of Seating Walls
Gas Firepit Table with Built-in LED Lighting for a Stylish Dual Purpose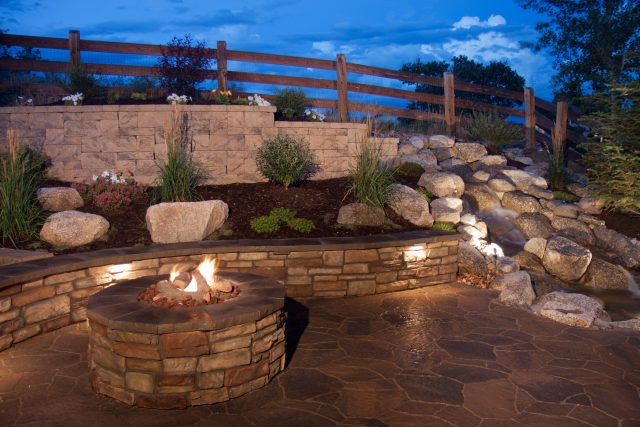 Add Intimacy To Your Patio or Party
The patio often serves as the heart of an outdoor living space. It is an elevated area where guests come together to drink, eat, and laugh, and the lighting makes all the difference between parties that end abruptly after dessert and those that last until the wee hours of the morning.
Intimate patio lighting can be achieved with fairy lights and outdoor lamps. A blend of both types of lighting often works best, with lamps highlighting the area around the deck and fairy lights used above or around the deck to illuminate the table and guests.
Products to Consider:
Outdoor String Lights with Weather-Resistant Bulbs for Durability
Dimmable LED String Lights for Customizable Illumination
Remote-Controlled String Lights for Easy Operation and Ambiance Adjustment
Achieving Luxurious Lighting is Worth the Effort
Lighting plays a crucial role in the look and feel of your outdoor space, and setting up luxurious lighting in your backyard requires a blend of functional and accent lighting. Start by identifying the major areas that need to be lit, such as walkways, stairs, decks, or dining areas. Then consider the types of lighting and colors you want to incorporate.
Designing a captivating atmosphere that brings joy and warmth to your outdoor parties is worth the effort. With a few upgrades, you can turn your space into a luxurious backyard that is cherished by you and your guests as you dance the night away, making lifelong memories beneath the starlit sky.
Home Vista Can Help You Achieve Your Dream Outdoor Space
Creating an outdoor space that is inviting, magical, and luxurious is a skill that requires a creative eye and technical know-how. With over two decades of experience, Home Vista is the perfect partner for Northern Virginia homeowners who want to improve their outdoor space.
While we are known for our lighting services, our solutions extend well beyond that and include custom design and construction of decks, patios, pergolas, firepits, outdoor kitchens, gazebos, and much more. By working alongside us, you can craft a landscape that captivates the senses and ensures every evening is an enchanting and memorable experience.
Don't let your outdoor space be the sore spot of your home or your neighborhood. If you live in Northern Virginia and want to create a luxury backyard, Home Vista has you covered. Our process involves convenient online scheduling, detailed compatibility consultation, manual on-site surveying, collaborative design workshops and 3D rendering all completed for free before any work is done, so you know exactly how much the project will cost, and what the final results will look like before you pay.
Contact us today if you need more outdoor lighting ideas, or to get started on your backyard landscaping project. We can transform your outdoor space into a luxury backyard experience that will be the highlight of your home.